The history of the French automobile industry set to iconic Parisian backdrops
Félicien Michaut sometimes brings his model cars to his workplace, the Louvre, where he describes his job as "Ben Stiller in 'Night at the Museum.'" Michaut also holds a degree in photography, which he puts to good use documenting the items in his collection.
While artwork like the Mona Lisa and the Winged Victory of Samothrace (pictured below) may be more accustomed to taking center stage in a photograph, Félicien Michaut prefers them as backdrops to his tiny cars.
Noting that he never takes his photos during work hours, Michaut explains that his goal is to highlight the French car industry and its history. He doesn't focus on sports cars or flashier models, but rather cars of particular importance to France, its social movements, and its ordinary citizens. The Citroën Type A shown above, for example, was the first model conceived of by André Citroën and the first car in Europe to be mass-produced from an assembly line. It was sold between 1919 and 1921.
Below is a short video of a "Citroën Traction", a car manufactured in Paris between 1934 and 1957. The car holds an important place in French history as it was an iconic car during World War II, used by the resistance movement, collaborators, and even the Germans.
Another one of Michaut's favorites is the Citroën DS, a beautiful car unveiled in 1955.
The Citroën DS also has the distinct pleasure of having saved the life of President Charles de Gaulle. As the story goes, twelve gunmen opened fire on the presidential Citroën DS in 1962 but failed to kill anyone. The driver was able to get away because of the car's well-made suspension that kept it level, even with deflated tires.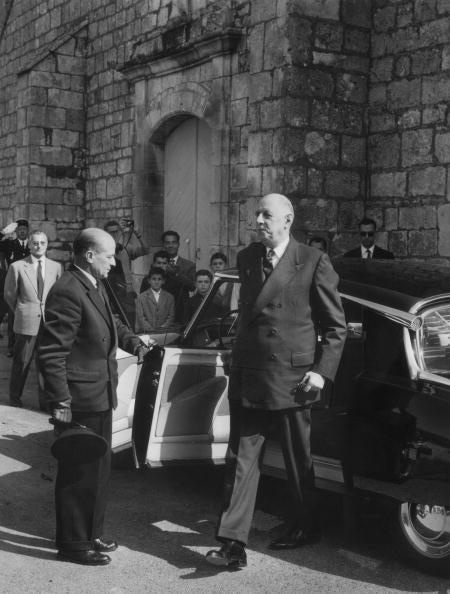 Félicien Michaut's work often highlights cars that were and are familiar to everyday French people. Here are some from the 1970s and 80s:
Michaut turned his photography last year into a protest against France's labor law.
And here he is at the Louvre:
Félicien Michaut's facebook page and instagram account boast thousands of photographs of model cars next to Parisian landmarks.
🙂